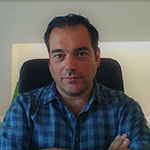 I am co-founder and CEO of BOLT Virtual Productions (http://boltvirtual.gr). Bolt Virtual was founded in summer 2016 with the main goal of promoting the fascinating and emerging technology of virtual reality. Our business model includes three pillars, two of which are in full operation.
1. Introducing to the Greek market the emerging technology of immersive, room-scale VR via our flagship initiative, The VR Project - Greece's first VR showcase premisis. The space uses the most advanced VR hardware and software, has been visited by thousands of customers, tens of schools for educational trips, catered to several corporate events, delivered Visual art seminars and Digital Art Exhibitions.
2. Developing and Producing VR content. Bolt Virtual is currently developing cross-platform VR applications for marketing, tourism, educational and health promotion purposes in partnership with major Greek enterprises, universities and museums.

I am also co-founder and Managing Director of BOLT International Consulting (www.bolt.gr), a dynamic provider of consulting services in the design, planning, management and implementation of large-scale international and national projects and programmes. Bolt International Consulting has been operational since 2008, has implemented over 30 large scale, complex international projects in several countries.
Linkedin: https://www.linkedin.com/in/yannis-parcharidis-7b010818/